Daniel Boone (Prime – Black)
We build our new line of Prime grills even smarter and stronger. Our 12V direct power design provides better temp control, greater pellet fuel economy and faster startups! With micro-adjustment capability in the variable-speed fan and auger motor, you can maintain more consistent grill temps. Adjust your smoke and grill temp from 150°F to 550°F with 5° increment control. With a 13.5" peaked lid and 458 sq. in. of grill space you can cook anything from 7 racks of ribs to a standup turkey and monitor multiple food temps with dual meat probes. Food has never tasted better, and grilling has never been easier!
Kick your taste buds into a new dimension!
* Prime Standard Non-WiFi models do not include grill lid and hopper windows, front and bottom shelves, and bottle opener.
* Dual meat probes will both be read through iOS and Android APP come June 2019
* USB port is only for charging
* USB Port will not charge USB-C devices
* Continental USA Prices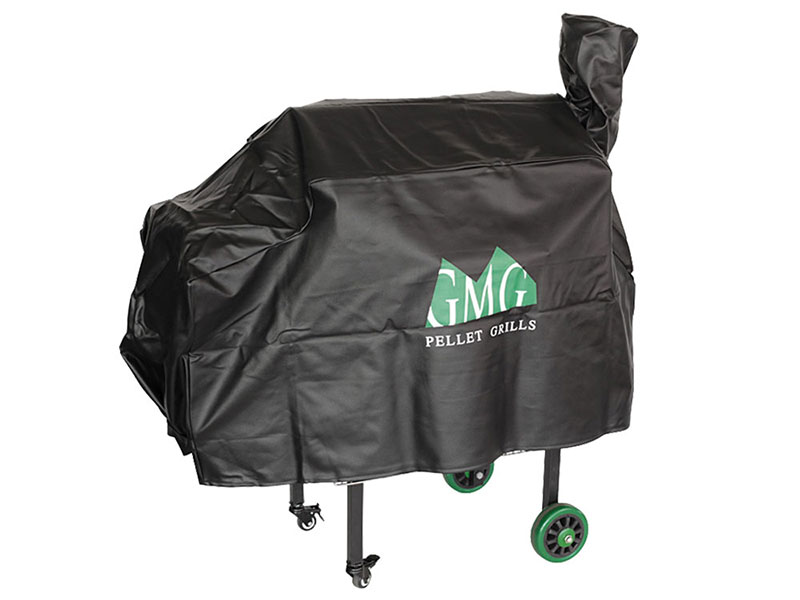 DB Choice/Prime Standard Grill Cover
$39.95
We've built and tested our form-fitting grill cover to withstand the toughest weather conditions. Protect your investment with a custom Green Mountain Grills cover designed to keep your grill happy.

Designed to fit DB Choice and Prime Standard non-wifi grill models.

UPC – 837654296004
Information
The Daniel Boone Prime model comes with a redesigned digital controller with dual meat probes and a USB port. Our 13.5 in. peaked lid provides enough space for a stand-up chicken to a dozen racks of ribs. Keep all of your grilling tools handy by hanging them on the utensils hooks of the side convenience tray. All of our grills have a venturi-style firebox for that creates a cyclone flame that ensures maximum combustion. They also has Sense-Mate, a thermal sensor which constantly monitors the ambient temperature. When the weather gets cold, the sensor kicks the grill into Turbo mode, so you don't have to wait long for the grill to heat up! Other features include Keep Warm mode and Fan Only mode with automatic shut-off to blow ash out of the firebox after you finish grilling.
---
Grill Functionality
A motor turns the auger which feeds pellets into the firebox. There, a hot rod automatically ignites the pellets, and a combustion fan below keeps them burning. Vents vertically line the inside of the Firebox creating a circular air flow. A fan inside the Pellet Hopper maintains positive pressure which prevents burn-back in the auger tube. When met these two air flows create the ultimate wood burning fire circulating pure hardwood smoke flavor.
Technical Specs:
Voltage:
12V
Wattage:
100W start/16.6W cont.
Weight:
170 LBS
Dimensions:
52"H x 52"W x 25"D
Surface Cooking Area:
458 sq in.
Auger Motor RPM:
4.7~5.2
Fan Motor RPM:
0.45A; 4100 RPM
Grease Tray:
12 Gauge Steel
Lid:
13 Gauge Steel
SS Lid:
14 Gauge Steel
Body:
14 Gauge Steel
Igniter:
12V; 100W
Igniter (Hot Rod) Diameter:
625 in.
Height of Cooking Surface to Lid:
13.5 in. clearance
Hopper Capacity (LBS of pellets):
18 LBS
Components
Pellet Hopper
The Pellet Hopper is designed to hold 17 lbs of pellets and feed pellets into the auger. The sloped design makes sure pellets are fed properly into the mouth of the auger.
Thermal Sensor
The PT100 Platinum resistance temperature sensor is standard in every unit.
Firebox
Pellets are fed into the Firebox where a hot rod automatically ignites the pellets, and a combustion fan keeps them burning.
Digital Controller
The GMG digital controller has a temperature range of 150-500° F in 5° increments and 150-550°F on the Davy Crockett. Every digital controller comes standard with a meat probe for instant food readings inside your grill.
Auger System
The GMG auger system is built with a high RPM motor and designed with optimal torque in mind for a smooth and consistent feed of wood onto the fire.
Grease Bucket
Our grease bucket is all stainless steel.